These celebrity brow transformations are incredible
What's the cardinal sin of brows? All together now... "Over-plucking." Word is, once gone, they'll never grow back. And, while that *may* be true for the most unlucky of us, the good news is, there are tools we can add to our arsenal to give the impression of full luscious, bountiful brows.
Just ask the celebs. They've rebounded from the stick thin brows of the 90s and returned with a brow game as strong as the arches they're now sporting.
Others have simply stuck to a gently-defining tint, or acquainted themselves with the legion of game-changing brow products (which, incidentally, we've rounded up for you).
We've selected 11 of the best brow products for foolproof fleek every time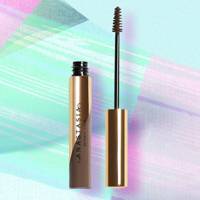 Eyebrows
We've selected 11 of the best brow products for foolproof fleek every time
Trends come and go, but Gwen Stefani is proof that you can transition from shaved off and drawn on brows, to a pair that are thick and full. Lady Gaga demonstrates the difference between bleached blonde brows and deep, feathery arches and Winona is testament that big and bushy have always been 'in'.
Here are their transformations for your viewing pleasure...
Bella Hadid is now known for her feline-like eyes, but those arched sleeked brows weren't always like that. Like most noughties teens, Bella also plucked out her brows to achieve that super thin look (why did we do this?!) We're all for her new look though, her eyebrows are still thin and natural, and really suit her delicate traits.





OMG has Michelle Keegan changed! Her super thin eyebrows back in the day weren't doing her any favours - but then again, everyone was digging the barely-there eyebrows in the noughties. With a little help from makeup Michelle's brows are now arched perfection - jels much?

Back in the 90's barely having eyebrows was apparently a thing. Thankfully that trend has vanished, and Angelina's eyebrows look effortlessly natural, perfectly complimenting her gorgeous green eyes and her warm hair colour.

Nicole always liked arched eyebrows and she's still rocking that look. Now more full and dark, her transformation is a perfect example for those struggling with thin brows, filling them up a little but staying true to the shape she likes. Plus, that deep colour looks gorgeous, so bold!

Wow! Look what a difference a little bit of eyebrow tint does. Lady Gaga's eyebrows are gloriously thick these days, but in early 2016, you could barely see her brows after she bleached them. Which do you prefer - light or dark?

Back in 2000, Cameron's eyebrows were practically invisible, matching her bleach blonde hair.
Fast forward to 2014 and the shapes still the same but the actress has opted for a darker look which nicely frames her face. Much better.

Ah, probably the most famous set of brows in the world...
From 2010 to 2015, Cara Delevingne hasn't changed much except the colour. She knows she has a good shape but also knows a warm dye on your brows can really enhance your beauty look.

When it comes to beauty, Drew Barrymore almost always gets it right except when she over-plucked her eyebrows back in 2007.
Over plucking can really age you so it's best to let your brows grow in, keeping them neat but natural.

Now, this is a serious eyebrow transformation. Gwen Stefani nearly lost her brows back in 2000... Thank God she's recovered them, eh!

Jada Pinkett-Smith's 2015 brows are much more preened than her former 1991 pair. The shape lifts the eye helping them to appear bigger and the arch is right on point.

Jennifer Lawrence proves that you need a little colour in your brows to flatter. Her eye brows in 2014 where just a shade too pale (and too short). Today they've got their mojo back which a nice rich colour and great length.

Jennifer Lopez's '98 brows may be this generation's idea of hell but you can't blame her. Back in the Nineties, this was a flawless look.

Yes, Julia Roberts' set may have been just a little overgrown in 1990 but we're glad she hasn't totally massacred today. We'd hate to have totally lost her gorgeous thick shape through tweezer abuse.

1998, Kate Winslet is digging her arched mocha brow. Now? The actress opts for a heavy, coaled eyebrow with less of a severe shape.
One thing she has kept is her excellently shaped arch. Arches, when plucked correctly, can really help you to appear more confident.

We think we prefer Kim Kardashian's more natural brows that she rocked back in 2007. Thoughts?

Kylie Jenner's brows are much thicker than they were in 2010. They're also a different shade which suits her newly coloured hair.