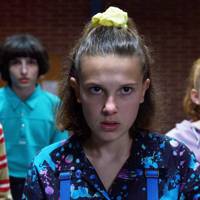 Trust us, these really are the best TV series of all time
Is there anything better than spending a day/night/week on the sofa in your best pyjamas binge-watching a brilliant new boxset? Short answer: no. Whether you're settling in for a murder mystery crime drama and you've just got to find out 'who dunnit', or you've fallen down the teen drama trap (we can confirm Gossip Girl is just as good the 5th time), we don't believe you should ever feel guilty about whiling away a weekend in front of the telly.
From modern day classics such as Queer Eye and Orange Is The New Black, to classic cult series that have stood the test of time (Sex and the City will forever have a place in our hearts), there's no better way to switch off from the world, kick your feet up and relax than a trusty boxset.
Ready for the best tv series and box sets to binge watch right now?
So get comfy, crack open the Kettle Chips, and kiss goodbye to the outside world as you make your way through our edit of the best boxset bingers of all time. Warning, there's quite a lot of them...
Looking for something more serious? check out our guide to the best documentaries on netflix and the creepiesttrue crime documentaries. Or for something to lift your mood why not visit our picks of the best date-night movies, sad movies, feel-good films or chick-flicks.
Stranger Things

Seasons: 3
Where: Netflix
Who: Millie Bobby Brown, Finn Wolfhard, Winona Ryder
What: The mysterious Eleven and her gang must confront supernatural forces when people begin to disappear from the town of Hawkins.

Line of Duty

Seasons: 5
Where: BBC/Netflix
Who: Martin Compston, Vicky McClure, Adrian Dunbar
What: One of Britain's best-loved TV series returns for an epic fifth series. The crime-drama centred around police corruption previously focused on Roz's endeavours but Jedd Mercurio, the show's creator, said series 5 will be focused on the show's regular characters. YAAS.

Fleabag

Seasons: 2
Where: BBC 3
Who: Phoebe Waller-Bridge, Sian Clifford, Jenny Rainsford
What: The whole world fell in love with Fleabag when it graced our screens back in 2016, and now it is making its return for a much-anticipated second season. The sitcom, which is the brainchild of Phoebe Waller-Bridge, follows a young woman trying to navigate life in the big city whilst dealing with a recent tragedy. It's hilarious, brilliant and jam-packed with epic one liners - there's a reason Phoebe received a BAFTA for her performance.

Dynasty

Seasons: 2 - the 3rd is in the works.
Who: Elizabeth Gillies, Robert Christopher Riley, Rafael de la Fuente
What: Your new Netflix binge comes in the form of two of America's wealthiest families battling over their fortunes.
Where: Netflix

Sex Education

Seasons: 1
Who: Gillian Anderson, Asa Butterfield, Emma Mackey, Ncuti Gatwa, Connor Swindells, Kedar Williams-Stirling
What: The teenage son of a sex therapist sets up his own under-the-radar sex therapy clinic with his classmate at a high school in Wales.
Where: Netflix

Queer Eye

Seasons: It's just returned for a fourth season and we are overjoyed.
Who: Bobby, Tan, Karamo, Jonathan and Antoni AKA the actual dream team
What: The Fab Five travel through Atlanta helping to improve the lives of the city's straight men. We're talking a full wardrobe, grooming, diet and home decor overhaul.
Where: Netflix, duh.

Power

Seasons: 5
Who: Omari Hardwick, Joseph Sikora, Naturi Noughton, Lela Loren
What: James 'Ghost' St Patrick juggles his double life as New York's most notorious drug distributor and wealthy night club owner catering to the city's elite.
Where: Head to Netflix for all 5 seasons.

Killing Eve

Seasons: 2
Who: Jodie Comer. The 25-year-old actress set for stardom after this killer performance.
What: Based on the Villanelle Novellas by Luke Jennings, this hit TV show follows a British security operative as she hunts down a highly skilled assasin. The tense game of cat-and-mouse will have you binging the whole series in a day.
Where: Head to BBC iPlayer to catch a piece of the action

Friends

Seasons: 10
Who: If you don't know their names, where have you been?! Courtney Cox, Jennifer Aniston, Lisa Kudrow, Matt Le Blanc, David Schwimmer and Matthew Perry.
What: Six twenty-somethings navigate the city of New York and all the challenges life throws at them - your job's a joke, you're broke, your love life's D.O.A., you know how it is. You'll be in creases, you'll be in tears, and you'll fall in love with six friends who help each other through thick and thin. The emotional events will make you take sides (were they on a break?), leave you praying for that long-rumoured Friends reunion and not to mention, could the jokes BE any funnier?
Best for: Lounging in your pyjamas, lapping up the 90s nostalgia and quoting every single word.
Where: Stream all 10 season on Netflix or buy on Amazon

Gossip Girl

Seasons: 6
Who: Leighton Meester, Blake Lively, Ed Westwick, Penn Badgley, Chace Crawford</a>
What: Narrated by Kristen Bell, Gossip Girl is a dizzying, glamorous peek into life in New York's affluent Upper East Side. The show centres around love, friendship, heartbreak and, yes, gossip. Warning: You will head over heels in love with the Motherchucker that is Chuck Bass.
Best for: Lovers of teenage angst, New York City skylines and stylish wardrobes. Oh, and Blair Waldorf (Leighton Meester) has some of the best bitchy one-liners – take notes!
Where: Stream all 6 season on Netflix or buy on Amazon

Dexter

Seasons:8
Who: Michael C Hall
What: A forensic blood-splatter analyst by day, and a vigilante serial killer at night - this is one fantastically twisted (and gory) show.
Best for: Viewers who don't scare too easily
Where: Buy the box set on Amazon

Mad Men

Seasons: 7
Who: Jon Hamm, Elisabeth Moss, January Jones
What: Set in an1960s advertising agency, Mad Men is not only a joy to behold visually, it's a fascinating insight in the 60s socio politics (read: sexism).
Best for: Watching alone with a tub of ice-cream
Where: Stream all 7 season on Netflix or buy on Amazon