'None of you know sh**': Lili Reinhart and Cole Sprouse hit back at rumours they've split
We found out earlier this week that real-life Riverdale couple, Lili Reinhart and Cole Sprouse AKA Betty and Jughead, had reportedly split up.
After two years of dating, the Riverdale co-stars were rumoured to have called it quits. According to a source at E! News, "Lili and Cole broke-up earlier this summer" and "the two are not living together this season." They were also seen avoiding each other at Entertainment Weekly's Comic-Con event this month.
However, it seems that the rumours could be, well, just rumours.
Lili took to Instagram to share a photo of her and Cole posing on a magazine cover together and wrote, "BREAKING: A reliable source has confirmed that none of you know shit."
At the exact same time, Cole posted: "UNPRECEDENTED: Cole Sprouse and Lili Reinhart consume the flesh of 'reliable sources' to fuel their bacchanalian sex cult."
Lili and Cole have always remained tight-lipped throughout their relationship, despite other cast mates letting slip that the couple - collectively named as 'Bughead' - had been dating for two seasons of Riverdale.
The stars sparked serious dating rumours back in 2017 with some sneaky PDA while promoting season two of their CW show at Entertainment Weekly's annual San Diego Comic-Con. They were spotted holding hands and reportedly even shared a couple of kisses throughout the press day.
While they continued to fuel speculation, Lili and Cole did not confirm their relationship until May 2018 when they walked the red carpet together at the Met Gala. It's safe to say fans were delighted.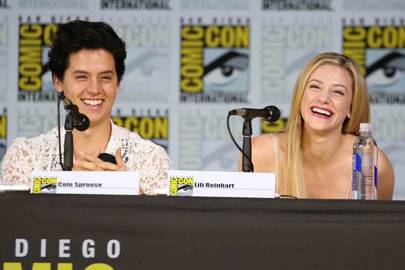 We'll keep you updated when we hear more.