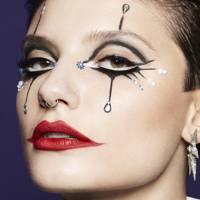 Terrified of clowns? You won't be after you see this chic take on jester-inspired Halloween makeup
In partnership with
Boots
We love getting creative with makeup, so when an opportunity arises to really push the boundaries of beauty while flexing our blending, lining and shading skills, we jump at the opportunity (even better when others jump too).
Cue Halloween – the one day of the year when walking down the street dressed as a perfectly executed ghost or ghoul is met with appreciation rather than raised eyebrows.
There's no makeup opportunity quite like it, but with the bar set so high after last year's terrifying triumph, our 2019 Halloween look has to be the scariest and most skilful yet.
That's why we called on Rimmel London to help us out. With everything from liner to shadow, lipstick and more, we knew this was the brand to help us create something spectacular. The brief? Creepy, yet chic. The result? A clown-inspired 'Jesterina' guaranteed to induce chills (and a touch of cut-crease envy). And you can shop the entire look now at Boots – it couldn't be simpler.
Scroll down for your step-by-step guide to recreating this eerie look. Here are the Rimmel London products (plus a few others) you'll need:
Eyes
First, use Rimmel Soft Kohl Kajal Eyeliner in Pure White, £2.99 along the waterline and blend under the bottom eyelashes. Also extend the inner corner and outer corner slightly to give the illusion of larger eyes.
Then, apply Rimmel Exaggerate Automatic Waterproof Eye Definer in 261 Noir, £3.99 across the top lashline and to the crease.
Now, using the Rimmel Exaggerate Eye Liner, £5.29, line directly underneath the white to map out the lines on your face. Also go back over the lines made with the kohl pencil to redefine them and make them stand out more.
For the finishing touches, apply Eylure Enchanted Lashes in Stars In Their Eyes, £5.95 to the top and bottom lashline, underneath the white kohl pencil.
To complete the eyes, apply In Your Dreams Midnight Moon Face Gems, £6.50, and admire your handiwork.
Lips
Use Rimmel Stay Matte Liquid Lipstick in Fire Starter, £5.99 to fill in your lips. Then take a precise brush or cotton bud to drag out the colour from the outer corners to look like smile lines. Scary, right?
For a full step-by-step guide, click below to watch our Jesterina makeup tutorial.
Shop now on Boots.com for all things Halloween, including the Rimmel London products you'll need for a spooktacular night.