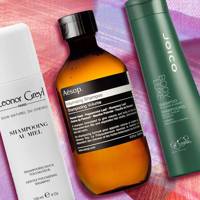 These shampoos are an absolute life-saver for thin or fine hair
Hair loss and thinning hair is a major concern for many women. Sometimes it's down to stress, other times genetics have a part to play, but when we're told using the right kind of products could make a difference, we're more than keen to give them a try.
While these clever hair-boosting potions aren't necessarily going to give you hair to rival Rapunzel, they can certainly help maintain the hair you have, make it glossier and stronger all round, so investing in one really is a no-brainer.
Scroll down to read about the benefits of some of our favourite strengthening shampoos for fine or thinning hair.
Haute Performance Shampoo, £35, Iles Formula

Hydrating without being heavy, this gentle, sulphate-free shampoo uses silk proteins to add body and shine.

Volumising Shampoo, £17, Aesop

Gets right into the roots of hair shafts, coating it and consequently plumping - smells amazing too.

Joico Body Luxe Shampoo, £10.25, Feel Unique

Can a shampoo *really* transform baby-fine hair into something red-carpet-worthy? The answer – if you use this – is an emphatic yes.

Leonor Greyl Shampooing au Miel, £20, Space NK

Bamboo, vitamins and proteins combine in this gentle yet powerful luxury shampoo. Most certainly worth treating your hair.

Kérastase Bain Volumifique, £18.60, Kérastase Paris

A hot favouritie when it comes to treating your hair across a whole range of issues. This one lifts hair at the roots for mega volume and bounce.

Matrix Biolage Full Density, £9.20, Look Fantastic

If you struggle with flat, lack-lustre hair, this shampoo will be a savior. Not only does it make hair look thicker, it feels thicker too which is a great confidence boost.

Kevin Murphy Full Again Thickening Lotion, £21, Kevin Murphy

A popular choice for hair that needs a bit of plumping - it smells great and a little goes a long way so you can justify spending a little more.

Philip B Peppermint & Avocado Volumising & Clarifying Shampoo, £31, Space NK

When your hair is sticking to your scalp no matter what you do, it's probably time to reconsider the shampoo you're using. This Philip B shampoo is one of the brand's favourites and gives that extra oomph to the roots.

Plantur 39, £8.99, Boots

If you're hair is stressed and tired from excess colouring, Plantur 21's caffine-rich soothing shampoo gives your hair real energy meaning it won't break so often. Build up the use to see results.

Paul Mitchell Tea Tree Lemon Sage Thickening Shampoo, £13.39, Look Fantastic

For those that love a zesty natural shampoo that leaves locks feeling fresh all day long. It has thickening agents that make hair look and feel fuller.

Ultimate Thickening Shampoo, £19.50, Kiehl's

Kiehl's never disappoints when it comes to body and hair products, and this shampoo is no exception. Hair looks thicker and and fuller after a few washes.

OGX Anti-Hair Fallout Niacin + Caffeine Shampoo, £6.99, Superdrug

After hearing amazing things about this shampoo, we had our hopes up before trying it. And trust us, it will beat all our expectations - makes locks feel denser on the scalp and bouncy in the length.

Thickening Shampoo, £19, Bumble and Bumble

Add noticeable volume and texture in just a few washes. Perfect for fine, flyaway hair.

Nioxin System 4, £21.95, Allbeauty

Cleanse, revitalize and treat - that's the motto here - ideal for hair that's seen a lot of harsh chemicals and demands serious attention.

Invati Exfoliating Shampoo, £22.50, Aveda

A volume injection for hair that lacks oomph.

More shampoo this way...

Best sulphate free & low shampoo

Best shampoo for thin & fine hair

Best clarifying & cleansing shampoo

Best organic & natural shampoo

Best silver and purple shampoo