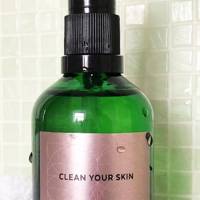 These are the best cleansing oils for fresh, glowing skin
If you're anything like us, you're basically on a lifelong quest for the perfect cleanser. It's got to completely remove all traces of makeup, leaving skin fresh and clean and nourished. Ideally, it'd be hydrating and glowy, giving us the clearest skin of our lives.
A lot of people are wary of oil cleansers because logically, it seems like putting oil on your face would make it oily. Not so. Cleansing oils can be gentle, purifying and thorough without causing any irritation or breakouts. They should really be entirely suitable for people with all skin types.
So, whether you're trying out a cleansing oil for the first time or if you're still trying to find your perfect match, we've rounded up eight of the best ones of the market. They range from £15 to £72, so we've got your budget covered. They all promise to give you clear, glowing, soft skin.
Burt's Bees Facial Cleansing Oil, £16.99

Made with coconut and argan oils, this cleansing oil is 100% natural and promises to give you super-soft skin.

DHC Deep Cleansing Oil, £24

This one-step Japanese cleansing ritual will melt away makeup and impurities to give you totally clean, soft skin.

Caudelie Make-Up Removing Cleansing Oil

Light, nourishing and non-greasy, this cleansing oils gets rid of all makeup completely, including waterproof.

Laura Mercier Purifying Cleansing Oil, £32

This cult product is good for dry, oily and sensitive skin. It should remove all dirt and makeup without causing irritation or breakouts.

Votary Rose Geranium & Apricot Cleansing Oil, £15

Recommended for all skin types, this 100% natural plant oil leaves skin radiant and healthy.

Jurlique Nourishing Cleaning Oil, £25

When you mix this stuff with water, it transforms into a rich cleansing milk that nourishes and hydrates.

Aesop Parsley Seed Facial Cleansing Oil, £43

With parsley seed, macadamia seed, tocopherol and beta-carotene, this oil removes impurities and softens the skin.

La Mer The Cleansing Oil, £72

When gently shaken, this cleansing suspension transforms into a detoxifying emulsion of precious marine oils and pearl powders. Apply to dry skin to remove makeup, or apply with water for a milky, purifying wash.