Best conditioners for dry hair: 21 moisture-boosting formulas
Dry locks need extra care - and choosing the right product to condition your hair is a crucial step in the long run to restoring natural smoothness and shine. While shampooing your hair opens the hair's cuticle, the conditioner will seal them up; helping strands retain moisture, and therefore enhance shine. Which frankly is all dry-haired ladies dreams.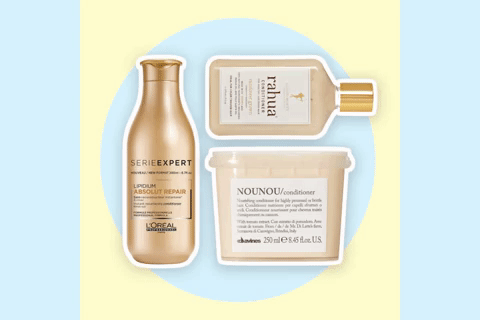 Healthy-looking hair takes patience to achieve but it's worth the money and effort to invest in a good product that suits both your roots and length. So browse our selection of moisture-boosting and brilliance-enhancing formulas, to find the ideal conditioner for your hair...
Hydrating itioner, £17.75, Moroccanoil

A favourite of Victoria's Secrets model Sara Sampiao, this ultra hydrating formula delivers vital vitamins and algae to keep hair glossy and healthy.

Super Rich itioner, £22, Bumble and Bumble

Deeply nourishing ingredients like dimethicone and cetrimonium chloride help to lubricate each strand and lock in moisture, making it the antidote to coarse, frizzy locks.

Absolut Repair Lipidium itioner, £10.80, L'Oréal Professionnel

Moisture level: 💧💧💧💧💧

A true moisture bomb! This conditioner is L'Oréal's latest endeavour for hair in need of repair. The lipidium complex will restore the locks' shine and smoothness. If you do have dry hair but greasy roots, apply it only on the length of your hair.

Nounou itioner, £17.90, Davines at Cult Beauty

Moisture level: 💧💧💧

We love a cult hair product and Davines' conditioners are worthy of their reputation. Nou Nou is the ideal formula for fixing dryness caused by colour, as it nourishes strands to repair and prevent breakage.

White Truffle Nourishing & itioning Crème, £83, Philip B at Space NK

Moisture level: 💧💧💧💧

The delicious smell is just one of the perks of this luxe conditioner. The pricey tag is worth it for the brand's amazing formulas that brings dull-looking hair back to life.

Repair itioner, £20, Ouai Haircare at Cult Beauty

Moisture level: 💧💧💧

Developed to repair damaged and dry hair, this conditioner closes the strand's cuticles, fortifying hair. The brand's smooth conditioner is another alternative for those looking for a super moisturising formula.

Dry Remedy Moisturising itioner, £26, Aveda

Moisture level: 💧💧💧💧💧

This award-winning formula is a godsent for dry hair - especially when used with the whole Dry Remedy range. A deep conditioner that will restore smoothness and bounce, no matter how dry your hair is.

Masque Fleurs de Jasmin Nourishing Treatment Mask, £36.85, Leonor Greyl

Moisture level: 💧💧💧💧💧

Indulging in all levels, this hair mask can be used as a deep conditioner for hair in need of a serious moisture boost. The scent is absolutely amazing, worthy of an at-home spa day.

Moisture Balancing itioner, £22, Philip Kingsley

Moisture level: 💧💧💧💧💧

Moisture, smoothness, shine... you name it, this product gives it. It will leave you with healthy-looking locks - and let's face it - that's what we all want.

Restore itioner, £24, Living Proof

Moisture level: 💧💧💧

Long term results are always ideal, and although hair masks can do wonders for your hair, the effects can sometimes wear out in a couple of weeks. That's why if your locks need repairing you need a strong conditioner for daily use - like this one.

Perfect 4 Platinum itioner, £21.50, Pureology

Moisture level: 💧💧💧

Although this conditioner was specially developed for platinum hair we've tested it and it works *so* well on dry blonde hair - platinum or not. Ideal to keep colour looking bright.

Miracle Moist itioner, £4, Aussie

Moisture level: 💧💧💧💧💧

Aussie's own formula for dry hair is a moisture boost packed with macadamia oil. A budget hair hero that leaves hair feeling (and looking) like a million dollars.

Moisture Recovery itioner, £12.54, Joico

Moisture level: 💧💧💧💧

Another one that works miracles when it comes to moisture. We love how smooth the hair feels after the first wash alone. A must have!

Masqueintense Fine Hair, £31.70, Kérastase

Moisture level: 💧💧💧💧💧

A heavy-hitter, this one has been featured in our best conditioners for everyday treatment. The super soft texture of this sorbet-like conditioner is exactly what your hair will feel like after rinsing. Smooth looking and feeling, with shine and lots of movement.

Hair Care itioner, £49, Sisley

Moisture level: 💧💧

An everyday formula ideal for those with normal roots but dry ends. This reconstructing balm will close the strand's cuticles and continuously improve hair's consistence.

Classic itioner, £34, Rahua

Moisture level: 💧💧💧💧💧

A super luxurious texture and smell that will make you want to wash your hair everyday. This ultra-hydrating conditioner has rahua oil, that enhances shine and strengthens locks.

All Soft itioner, £11.55, Redken

Moisture level: 💧💧💧

Redken's newest addition is a must for smooth locks. The moisturising formula will help detangle and make strands more manageable.

R.A.W. Nourish itioner, £18.29, Biolage at Look Fantastic

Moisture level: 💧💧💧💧

Biolage's newest R.A.W. range is absolutely amazing for damaged hair. This super nourishing formula packed with coconut oil and kaolin clay is a retreat for stressed dull-looking locks. Pair it with the brand's muddy hair masks for a full on spa night.

Phytobaume Express Repair itioner, £14.50, Phyto at John Lewis

Moisture level: 💧💧💧💧💧

Moisture, but in a different way. This balm-like conditioner works as a quick fixer upper or an everyday treatment. The dense texture instantly makes strands look healthy and full - more on the heavy side you can use this one when reverse shampooing.