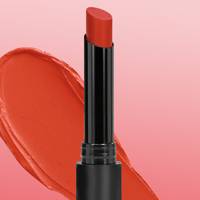 The GLAMOUR team reveal their favourite lipsticks of all time (including a £7 steal)
Here at GLAMOUR HQ, we have a beauty barometer test to see how much we really rate a product. It's pretty simple - the test is whether or not we take the product home after reviewing it. If it comes home with us, it's the real deal.
When it comes to lipstick, we're way past taking them home. We're practically married to our chosen shades. So, want to find out which lipsticks the GLAMOUR gals actually use?
We've already let you in on the best red lipsticks, nude lipsticks and matte lipsticks in the business, but when asked which is THE ONE - the lipstick we reach for when push comes to pout, there are just a few shining, mattifying and moisturising lip products we can't live without, these are our ultimates:
Barepro Longwear Lipstick, £20, Bareminerals
Samantha, Deputy Beauty Editor: When this launched at the start of the year, I was dubious of how a naturally-made lipstick could deliver long-lasting colour. But I couldn't have been proven more wrong and this is now a staple in my makeup bag. I'm obsessed with the bright orange shade 'Saffron' and have zero qualms wearing it from meeting to meeting because it's 100% coffee proof and doesn't flake. So impressed.

Le Marc Lip Crème Lipstick, £27, Marc Jacobs
Rebecca Baio, Freelance: Creamy and buttery with an almost-matte finish, this is the comfortable lip formula that ticks the day-to-day box and packs a pigment punch at the same time. My go-to shade is 230 J'Adore - subtle brown with pinky nude undertones and a hint of nineties glam.

Ultimate Love Lipstick, £20, Becca
Bianca, Website Editor: I love Becca for its skin-loving formulas and glow-getting powders but these new high-shine, high-conditioning lipsticks may be their best yet. They're packed with hyaluronic acid and avocado oil to deeply nourish while cocooning lips in rich pigments. Plus, they come in an array of shades for every occasion.

Ultimatte Lipstick, £9.99, Zara
Lottie Winter, Beauty Editor: "They may be new to the makeup game but Zara's matte lipstick is already a classic in the making. Matte but not drying, the slick lippy comes in an array of bold colours with impressive staying power."

Mattemoiselle Plush Matte Lipstick in Freckle Fiesta, £16, Fenty
Samantha, Deputy Beauty Editor: "My two favourite shades of lipstick are browny-nude and orange - and Freckle Fiesta is the perfect mixture of both. It's a rich terracotta that always gains me compliments, lasts all day and looks out of this world good with a tan."

Velour Extreme Matte Lipstick in On Point, £22, Laura Mercier
Samantha, Deputy Beauty Editor (again): "Yeah I have two favourites okay! So shoot me. But you honestly can't make a gal pick just one. This is my 'I finally faked tanned so let's make the most of it' colour. It's a hawt bright orange shade and honestly makes my bronzed skin look even more sunkissed. It's a statement, so you only need a sweep of bronzer and some mascara to pair it with. It'll last you a few hours at least and doesn't ball when touch-ups are needed, which is rare in a matte."

'Everlasting' Liquid Lipstick in Outlaw, £17, Kat Von D
Lottie, Beauty Editor: "I love wearing lipstick but whenever I do, it somehow ends up smudging within a matter of seconds, which is why this formula is perfect for me. Once it's dried, it doesn't budge and the shade is the perfect pillerbox red."

'Addict Gradient' Lipstick in Fuschia Twist, £26.50, Dior
Camilla, Beauty Director: "This is my go-to 'pop of colour' shade. It's a must-have for spring and summer, a sheer wash of colour that's glossy but not sticky."

Matte Lip Liquid in Windsor Rose, £7, The Body Shop
Jade, Social Media Manager: "I like a natural lip colour and this is one of the only ones I've found that doesn't go tacky or slide off your face half way through the day. It's buildable so you can layer up if you're heading for an impromptu night out from the office and it feels just like a lip balm when you apply it."

Hydra Beauty Nutrition Nourishing Lip Care, £31, Chanel
Charlie Teather, Fashion Editor: "I know I'm supposed to regale you with tales of poppin' shades and 'intense pigment', but alas… I can't remember the last time I went anywhere near a lipstick. It scares me nearly as much as the word 'lippy'. So instead, I'm going to nominate Chanel's Nourishing Lip Care as the best lip product ever to grace this earth. Totally restorative and not in the slightest bit sticky, it contains the ultra-hydrating camellia oil that just melts into your lips. And – while you may want to – you don't need to re-apply as often as other lip balms. I apply a generous helping before bed and can still feel it working its magic when I wake up. If you're wondering who on *earth* spends this much on a lip balm, it's those of us who save a fortune not buying lipstick."

Satin Lipstick in Spirit, £17.50, Mac
Jen, Engagement Executive: "This is literally what I wear every day. It's a less pink version of Velvet Teddy, to better suit my reddish-undertones. Never fear a neutral lip: it'll bring together your whole look with a slightly polished air, and the grey-ish brown undertones of Spirit will be bound to match your outfit, however outlandish a neon suit or subtle a black LBD you're flaunting."

Jean Queen Lipstick, £20, Lipstick Queen
Kiké, Digital Project Manager: "Picking one just one is nearly impossible, but Jean Queen is the standout in my mind. It's a lovely sheer pink colour that instantly brightens your face and the formula is really moisturising. As the description says, it's the perfect shade to compliment a white tee and jeans."

Chubby Stick Moisturising Lip Colour Balm in Heaping Hazelnut, £18.50, Clinique
Claire, Advertisement Director: "I'm obsessed with Clinique Chubby Sticks. They're moisturising and give your lips a subtle shine, without the stickiness of a gloss. My favourite colour is hazelnut, it's natural but gives my lips shape and plumps them up."

Melted Matte in Child Star Soft Nude, £19, Too Faced
Chelsea, Picture Editor: "As far as long-lasting matte goes, this is the winner. It doesn't feel heavy or tacky like other mattes and you can drink and eat with little worry."

Tinted Ultimate Red Balm, £6.95, Dr Paw Paw
Bianca, Website Editor: "I'm not a lipstick gal; it doesn't sit well on my lips and always ends up halfway across my face. I know it's basic but I am literally addicted to this juicy balm. It's become a cult classic and I'd always ask my Australian friends to smuggle heaps of the stuff back for me. Praise the lord that it's now stocked in the UK, so I can feed my addiction."

Rouge Velvet Lipstick, £8.99, Bourjois
Bandi, Branded Content & Partnerships Director:"I can't rave enough about this lipstick. Just £8.99 and available in 16 gorgeous shades. It DOES NOT move. I think it would survive a nuclear attack."
В интеренете нашел важный портал с информацией про http://progressive.ua.
Наш полезный веб портал со статьями про Продать отруби в Кировоградской области https://agroxy.com