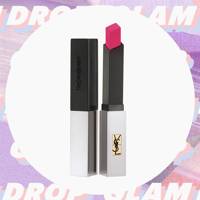 Here are the five products you saw on this week's Glam Drop
If there's one thing the GLAMOUR beauty team like best, it's waxing lyrical on the latest and greatest beauty launches landing on our desk – whether it's new innovations from pioneering brands, luxe-feeling body treats, genius hair stylers, beautiful foundations or simply a cracking new lipstick shade.
And, if a new product has made it all the way to the Glam Drop's tightly-edited line-up of the five most noteworthy beauty buys to have on your radar, you know it must be good.
For all the insider intel on each week's hero picks, tune in to our Instagram Stories every Monday for the weekly 'Glam Drop' or, if you're late to the party, you can catch up by heading to our Highlights reel.
This week we swatch, swipe, play and test out Victoria Beckham's brand new makeup line, a fragrance felt tip that you can scribble onto your wrists or anywhere else you'd like and a new and exciting skincare line from Avon.
Don't have the app? Or maybe missed something we said? You can catch up on all of this week's products here:
Lid Lustre
Price: £28, Victoria Beckham Beauty
Victoria Beckham's brand new makeup line is exactly what you'd expect – she's stuck to classic shades – midnight blue, minky brown and smoky black – that she knows work and that she uses herself all the time. Her Lid Lustre eyeshadow is beautifully pigmented with a subtle hint of sparkle, while her Satin Kajal liners are silky soft and blend like a dream.

Fragrance Pen
Price: £12.50, Scent Republik
Scent Republik's new fragrance pens look like a felt tip, and draw on like a felt tip but they're actually a transparent (but ingenious way) of scribbling on your perfume wherever you fancy. Currently there's three scents: London, which smells fresh and unisex, Tokyo, which smells very fruity and LA, which is floral, grown up and ultra sophisticated.

Super Dry Shampoo
Price: £20, Ouai
Ouai's Super Dry Shampoo is infused with volcanic minerals and rice bran to make it extra absorbent – perfect for those with very fine hair that gets greasy quickly. And, Ouai has pledged £16,000 of the profits to Period.Org (a menstrual movement helping to end period poverty), to get menstrual products into school and hygiene kits delivered around the world.

Distillery Vitamin C Powder Shot
Price: £22, Avon
Avon's new skincare line, Distillery, is vegan-friendly, ultra-considered and free from alcohol, fragrance, artificial dye and lots of other ingredients that can cause sensitivity in skin. The Vitamin C Powder Shot delivers potent vitamin C in powder form (crucial, since vitamin C is notoriously difficult to stabilise in water and loses its potency). It means you can keep it as a powder until your ready to use it and mix it in with your favourite serum or moisturiser for a powerful shot of brightening goodness without the need to bulk out the product with unnecessary water and packaging.

Rouge Pur Couture Slim Sheer Matte
Price: £30, YSL (available at Selfridges on 18th September)
If you like the idea of a matte lipstick but always find them too heavy, this might just be the answer. YSL has released a new rendition of their cult Rouge Pur Couture Slim in a Sheer Matte formula that's velvety and soft but still lightweight.