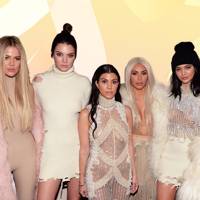 The Kardashian Family Tree: Who's who in America's most famous family
Whether you love them or hate them, there's no denying the Kardashian family hold some serious power. From their reality show - which by the way, is on its SIXTEENTH season - to the endless stream of family drama hogging the headlines, this family are experts at stealing the spotlight. And for good reason - they provide endless entertainment.
This year alone, Kylie Jenner was announced as the world's youngest self-made billionaire, Khloe's now ex-boyfriend cheated on her with Kylie's BFF, Jordyn Woods[/link], and Kim announced she is currently training to become a lawyer. Yep, expect the unexpected with one of America's most famous families.
And yet, you're excused if you still haven't learnt which Kardashian-Jenner sister is which, or frankly, why they're even famous. Believe us, you're not alone.
Here, we break down the Kardashian family tree in our extensive who's who, because honestly - someone has to!
Where it all began?

Who: Robert Kardashian

What: The late Robert Kardashian was an American attorney, famously known for defending O.J. Simpson in his 1995 murder trial. Although he won the case for his client, it is till to his day one of the most controversial verdicts in American history.

Before being put in the spotlight over the O.J. Simpson case, Robert Kardashian was married to Kris Kardashian (now, Jenner), with whom he had four children - Kim, Kourtney, Khloé and Robert Jr - the couple divorced in 1991, three years before the trial actually happened.

Robert Kardashian passed away in 2003, weeks after being diagnosed with esophageal cancer.





The OGs

Who: Robert Kardashian, Kris Kardashian (now Jenner), and their children, Kim Kardashian, Kourtney Kardashian, Khloé Kardashian and Robert Kardashian Jr.

What: The Kardashian family's lives were thrust into spotlight during the O.J. Simpson trial. The media was all over Robert Kardashian, and his ex-wife and children were dragged into the frenzy. And although Robert Kardashian passed away in 2003, the family's rise to fame seemed to just have started.

Keeping Up with the Kardashians

Who: Kris and Bruce Jenner, Kim Kardashian, Kourtney Kardashian, Khloé Kardashian, Robert Kardashian Jr, Kendall Jenner and Kylie Jenner.

What: Happily remarried in 1991, Kris Jenner's life sounded like the plot of Cheaper by the Dozen. She had four children and so did Bruce Jenner, who had shot to fame as an Olympic athlete. The couple welcomed together two more baby girls, Kendall and Kylie.

During the Noughties, the second oldest Kardashian sister, Kim, began appearing in gossip magazines; after making friends with Paris Hilton, and dating singer Ray J. In 2007, the Kardashian-Jenners scored their own reality series Keeping Up with the Kardashians, which is still airing to this day. Bruce's children from his previous marriage, Brody, Brandon and Burt were not featured in most of the seasons.

Let's break down the members of the family individually, shall we?

Kris Jenner

AKA: Kris the Momager

Known for: Being the mastermind behind the Kardashian family's success and a #ProudMama.

Everyone, meet the woman that made this all possible, Kris Jenner. Now you know that she married and divorced Robert Kardashian, and then remarried Bruce Jenner, with whom she had Kendall and Kylie. But what next?

During her marriage to Bruce Jenner, Kris managed the careers of all her children, ALL six of them. But her relationship with Bruce ended in December 2014, when the couple were officially divorced.

Kris then dated Corey Gamble for two years. Corey, who appeared on the family's show, was very close to the Kardashians, especially Kourtney and her kids. Fans of the show were saddened by the news of their breakup last year but they have since been seen back together.

Caitlyn Jenner (formerly known as Bruce Jenner)

AKA: Bruce, now, Caitlyn

Known for: Being an Olympian for the United States, his transgender story and his new life under the spotlight as Cait.

Unless you live under a rock, you will have heard of Bruce Jenner's sex transition into Caitlyn Jenner. The Olympic star came out after the couple's divorce, and rewrote her own story at the age of 65. Caitlyn fronted the cover of Vanity Fair in an epic photo shoot to publicly present her new image to the world and explain the reasons behind her decision to transition. The interview caused major drama in the Kardashian clan, as it painted Kris Jenner as unsupportive.

E! made a series called 'I Am Cait' on Caitlyn, while on 'Keeping up with The Kardashians', the sisters spoke up about how the transition affected their family.

Caitlyn's relationship with the Kardashians has changed. The family feud took centre stage, as Caitlyn released a memoir that Kris Jenner argues portrayed her in a negative light.

Caitlyn is now rumoured to be dating 23-year-old transgender model, Sophia Hutchins.

*The* Kim Kardashian

AKA: Kim K, Mrs West, Keeks, Keke

Known for: Being the queen of selfies, kimojis, and frankly, all social media; her internet-breaking bum, her fashion evolution, contouring skills, and the story of her rise to fame.

Kim Kardashian (now Kim Kardashian West) is the middle sister, and probably the best known. Growing up, Kim Kardashian hung out with Paris Hilton (and Nicole Richie, of course), and consequently, her name made the tabloids. At just 19, in 2000, Kim got married to music producer Damon Thomas, they divorced three years later. Not long after, Kim started dating the American singer Ray J and the couple infamously made a sex tape that was leaked on the internet.

Kim is now married to Kanye West and the couple have welcomed their fourth child, Psalm, via surrogate.

Kim's love life and marriage

After her divorce in 2000, Kim stayed single before finding love with NBA player Kris Humphries. In 2011, the couple got married in California and the ceremony was aired on national television as part of a spin-off of Keeping Up with the Kardashians.

Only 72 days after their nuptials, Kim filed for divorce citing irreconcilable differences. The media called it a publicity stunt, but when the sisters were interviewed by David Letterman, Kourtney Kardashian set the record straight: "'I think if she was going to do it for publicity, she'd pick someone that people knew." Snap, Khloe.

Not long after Kim and Kris' divorce, the reality-star was spotted hanging out with Kanye West. The duo had been friends for several years and kept their new romance under wraps in the early stages. They are now married and parents to four little ones.

The Kardashian-Wests

Kim Kardashian and Kanye West seemed meant to be, not only for their love of the limelight, but also because a romance blossomed from a friendship. Fans of the rapper already knew he only had eyes for Kim, rapping on his 2012 album: "And I'll admit, I had fell in love with Kim; Around the same time she had fell in love with him; Well that's cool, baby girl, do ya thang; Lucky I ain't had Jay drop him from the team" - Jay Z owns the Brooklyn Nets, FYI - the basketball team for which Kris Humphries played at the time.

Kim and Kanye started dating the spring of that year. One year later and the couple were expecting their first baby, North West. North was born in 2013 before her parents got engaged, but of course a proposal was already in the works. In October 2013, Kanye proposed to Kim Kardashian, closing the San Francisco's AT&T park, surrounded by their family and friends - while the Jumbotron showed the words: "Please marry me".

In 2014, the Kardashian-Wests tied the knot in a very exclusive ceremony in Florence, Italy; after celebrating their engagement in Paris, and months after they made the cover of American Vogue. In February 2016, after two years happily married, the power couple welcomed their second child, baby Saint West.

This year the Kardashian-West welcomed their third child - via surrogate, since Kim was told by doctors that she would put her life at risk if she got pregnant again. The baby girl was born on January 15 and it's called Chicago West. They now have their fourth child via a surrogate.

Kourtney Kardashian

AKA: Queen Kourt, Kourt K, Shorty

Known for: Her sassy come-backs, loving all things organic and her petite stature.

Kourtney is the oldest of the Kardashian sisters. Before stardom hit, she was studying Theatre Arts at the University of Arizona, where she got her bachelor's degree. After graduating, she went on to star on Filthy Rich: Cattle Drive, and not long after, her family got their big break with Keeping Up with the Kardashians. Since the beginning of the series, she's been romantically linked to Scott Disick, with whom she has three children. Since their split, Kourtney enjoyed a brief romance with Younes Bendjima but they have since split up.

Kourt's on-off love life

Kourtney's love life has centred around her on-off relationship with Scott Disick since her early 20s.

Through allegations of infidelity and a battle with alcoholism, the couple have has their ups and downs. The show's audience has divided opinions about Scott, but whatever fans of the show say, he's definitely become an established member of the Kardashian family. He is also responsible for most of funny scenes on the show, and KUWTK wouldn't be the same without him.

Scott has been dating Sofia Richie since September 2017.

The Disicks

Scott and Kourtney welcomed Mason, the first grandchild of the Kardashian clan, in 2009. Then they had a little girl, Penelope, in 2012, and two years later baby boy Reign. Kourtney and Scott never tied the knot and don't share a last name.

In December 2016, the couple called it quits on their relationship once again, but this time the breakup seemed to be for good. Kourtney was spotted with Algerian model Younes Bendjima and although [link url="http://culturavai.info/article/scott-disick-photographed-with-another-woman-kourtney-kardashian-boyfriend"]. Scott has been dating Sofia Richie since September 2017.

Khloé Kardashian

AKA: Koko and Khlomoney

Known for: Her dedication to the gym and her straight-talking approach, oh and those immaculate cookie jars in her kitchen.

Khloé is the youngest of the Kardashian sisters, and weirdly has made more TV appearances than Kim. She's been in three spin-offs of the original family series, and is currently the star of two new shows from E!, Kocktails with Khloé and Revenge Body. She was also the host of the American version of The X Factor, next to Mario Lopez and had her own radio show, The Mix Up With Khloé Kardashian Odom.

Khloé looks rather different from her sisters which has sparked rumours about her parentage. She was home schooled as a child as she recalls being bullied on KUWTK.

Khloé became a fitness enthusiast a few years ago and showed off her body transformation in her book, 'Strong Looks Better Naked'. The book was a best seller and inspired E!'s Revenge Body series.

In April 2018, Khloe gave birth to a baby girl called True Thompson with her boyfriend and Canadian basketball player, Tristan Thompson. After rumours of Tristan cheating on Khloe during her pregnancy, the couple finally came to blows when it was revealed he'd been sleeping with Kylie's BFF, Jordyn Woods. WTF?!

Khloé's love life

Khloé's love life has been nothing short of rocky. Khloé married the basketball Lamar Odom in 2009, after the pair dated for just three months. The couple got their own reality show and even a wedding special on E!, but the couple got divorced in 2016 after Lamar's battle with substance abuse.

After being traded several times between teams, Lamar found himself without any new opportunities, and in 2013 he didn't sign an NBA contract. That same year, Lamar was arrested for a DUI and checked into rehab, after his family urged him to get treatment. His time at the rehab was short-lived after just one day in the facilities, and a couple of months later he and Khloé started seeing a marriage councillor. In the end of 2013, Khloé filed for divorce, a source told E! News: "It wasn't any easy decision, but at the end of the day she's not going to stay with someone who refuses to get help."

Khloé then started dating French Montana, while Lamar was signed by the New York Knicks. In 2015, the couple filed documents to finalise their divorce, but three months later, Lamar was found unconscious at a Nevada brothel, having suffered a drug overdose. Khloé then called off the divorce when the basketball player woke up from a one-month coma. The Kardashian family was very present throughout his recovery. Khloé and Lamar officially finalised their divorce in 2016. "They're relieved it's over and ready to move on with their lives" a source told E! News.

Khloé is currently dating Canadian basketball player, Tristan Thompson and the couple had their first child together baby True Thompson. Congrats, Khlo!

Robert Kardashian Jr.

AKA: Rob and Bob

Known for: His sock empire, being MIA for most part of the series, and most recently getting together with his sister's ex-boyfriend's baby mama (Yep, you've read that right).

Robert Kardashian Jr. is the youngest member of the Kardashian clan and has famously stayed out of the limelight - in comparison to his sisters. In fact, he was MIA for most of the family's show seasons, due to his struggles with anxiety and depression. The star gained weight while beating his demons, but has been on a path to a healthier lifestyle since. Aside from being featured in 'Keeping up with The Kardashians', Rob was a finalist in 2011's 'Dancing With The Stars', and was a judge in the 2012 Miss USA pageant. He also runs his own socks company, Arthur George - the label's name is a combination of his middle name, Arthur, and his father's, George. Rob recently returned to telly next to his ex-fiancé, Blac Chyna, who is also his sister's ex-boyfriend's baby mama (do keep up).