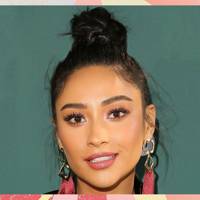 A messy bun is the nonchalant way to make the most out of second-day hair
God, I love lazy-girl hair. Why wake up inordinately early to lather up a storm on your scalp, when you could just roll over and press snooze? Yep, your hair might look like it could do with a wash. But we won't worry about that. Nope, we're A-OK, because: messy bun.
In fact, the knottier and more mussed up the better. One woman's tangle is another woman's volume – it'll save time on the backcombing.
There's something sexy, nonchalant and infinitely appealing on a slightly ramshackle topknot. The bundled-up style not only provides a humidity-proof option, it also masks second-day hair sins and cuts out the need to blow dry. And, a bun look great with any outfit - smart or casual. Just ask Meghan Markle.
It doesn't take a moment to create either. Pull your hair back into a high pony (you don't need to worry to much about it looking neat), twirl the pony into a long spiral, then wind it round the hairband used to secure your ponytail in place. Pin it with bobby pins to keep it in place if you have a bit more time, or stick to a second elastic if you're in a rush.
To make it artfully dishevelled, massage your fingers over your hair line to release the little wispy bits, pull out the shorter sections either side of your ear, and give your bun a wriggle to release any extra fronds.
We're not the only ones who love a high and mighty bun. Celebrities such as Kim Kardashian, Bella Hadid and Karlie Kloss are all fans of the super easy style.
Ready to rock the look? Here's some cracking examples to inspire you...
If you have lots of hair to work with like Shay Mitchell, try roughly plaiting your lengths before twisting into a top knot.

Rita worked a sharp and seriously high-fashion hairstyle in the form of this cool messy bun creation (which uses the length of her tresses to create a sharp fringe feature).





Think your hair is too short for a bun? Emma Stone proves that loose stragglers can look lush with this effortless top knot. If you're struggling with your layers, keep your hair parted and swept up from the sides, rather than trying to brush it all back.

Ariana Grande looked effortlessly chic with her hair scraped back into a gravity-defying top knot. Make like Ari and add some high octane glamour via a pair of eye-catching earrings.

Ugh, could Hailey Baldwin look any cooler? Rose gold hair aside, her messy bun looks effortless and elegant all at the same time. Bravo, Jen Atkin.

Our fave stylish Game Of Thrones lady, Sophie Turner, has high messy buns down.

Sarah Hyland looked totally stunning with her golden locks styled into a high messy bun hairstyle. We adore her matte red lips, too.

One topknot clearly wasn't enough for the gorgeous Joan Smalls - just check out this fun style!

Taylor Hill is the perfect model-off-duty with this messy bun.

Karlie Kloss looked gorgeous at the CFDA Awards with her carefree messy bun and nude lipstick.

January Jones adds an edge to her messy bun with the loose section styled to the front.

Clemence Poesy is the ultimate in french chic. We love the laid-back messy bun she wore during Paris Fashion Week.