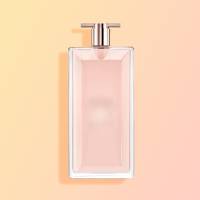 These are the delicious new perfumes you won't be able to stop spritzing
Head to the high-street and you'll find an array of autumnal outfits lining every shop window. And just as you might be starting to browse your chunky knit jumpers and long wool coats ready for the next season, you might also be keen to switch up your fragrance to match.
Thankfully, the perfume industry is always providing us with innovative new smells, from the fruity to the floral, from the sweet to the smoky. Scroll down to see all latest and greatest perfumes we're sniffing right now...
Looking for something specific? Check out our guide to the best wedding perfumes, unisex fragrances, citrus perfumes and floral fragrances.
Plus, your perfume isn't the only thing you might want to think about switching up for the upcoming season... Check out our round up of the best hair colours too!
Idôle Eau de Parfum, £48 for 25ml, Lancôme
Sustainable and as feminine (think refreshing and rosy) as it is feminist thanks to a trio of female perfumers and activist Zendaya as the face, this new perfume from Lançome ticks every box.

Aqua Allegoria Coconut Fizz Eau De Toilette, £56 for 75ml, Guerlain
Trust the original French perfume house to capture the scent of summer in this delightful blend of citrusy bergamot, sultry sandalwood and exotic coconut.

Jimmy Choo Fever

£36.55 for 40ml from Debenhams
The art of accessorising spans well beyond shoes and handbags - just ask fashion house Jimmy Choo, which has treated us to yet another statement scent, Fever. This warm and fruity floral sits sweet jasmine and heliotrope above a rich blend of benzoin and sandalwood. Finishing touch, sorted.

Jo Malone Wild Flowers & Weeds

Sick of the dreary winter weather and dreaming of spring? Same. Well, we have good news; you can practically teleport right there thanks to Jo Malone's new Wild Flowers & Weeds, a collection of limited-edition scents inspired by the unruly weeds and wildly-wonderful plants and flowers that line the river and canal banks. From Nettle & Wild Achillea to Cade & Cedarwood, the scents are as surprising as they are delicious. We couldn't possibly choose our favourite so we'll take them all. Available from March 2019. Each 30ml Cologne RRP £49.

AllSaints Sunset Riot Eau de Parfum

£49 for 100ml from allsaints.com
AllSaints just made their first foray into the fragrance world, release three distinctive unisex scents. Our favourite? Sunset Riot – an addictive mix of pink pepper, orange flower and cedarwood.

Enduring Glow by Jennifer Lopez

£30 for 50ml from Superdrug
That's right people, JLo's nostalgic 90s fragrance is making a comeback just in time for Christmas. Her new juice is a fresher take on the OG 'Glow' with opening notes of bergamot, pear and lychee. The signature bottle has also had a makeover, with a metallic gold finish.

Burberry Her Eau de Parfum

£96 for 100ml from burberry.com
The new and first-ever gourmand fragrance from Burberry brings together the best of style and scent. Housed in a clear glass bottle, the pinky-peach juice inside is bursting with red berry notes and a white woody accord.

Ralph Lauren Woman

£80.10 for 100ml from debenhams.com
Want to feel like you're dripping with gold? This scent will quench your sophisticated thirst. A mix of bold florals and rich woods, it's a 'here I am' heady mix. The hip flask-esque cap adds an extra touch of old school glam.

Kilian My Kind Of Love Collection

£110 for 100ml from selfridges.com
'I don't need a prince by my side to be a princess', 'Kissing Burns 6.4 Calories A Minute. Wanna Workout?', 'Bad Boys Are No Good But Good Boys Are No Fun' and finally, 'Let's Settle This Argument Like Adults, In The Bedroom, Naked' - these are the four new fragrances from Kilian and they smell just as cheeky as the names.

Jo Malone London Honeysuckle & Davana

£90 for 100ml from jomalone.co.uk
The combination of honeysuckle and an aromatic herb might seem *slightly* off-beat, but given Jo Malone London's reputation, we think this might just be a winner. Honeysuckle can be super difficult to replicate so we can't wait to see how the new perfume turns out - and we've got high hopes given that everybody has at least one Jo Malone fragrance they swear by. Think freshness with rose and the aromatic, fruity twist of davana, teamed with wood and moss and warmed by sunshine. Mmm!

Elie Saab Girl of Now Shine

£58 for 100ml from johnlewis.com
If you want a scent that will turn heads on a night out, this is it. Incredibly feminine with scent of oh-so-addictive Ormond flower, surrounded by notes of orange blossom and almond, its a modern show-stopper.

Goutal Bois d'Hadrien

£132 for 100 ml at goutalparis.com
The brand formerly known as Annick Goutal, now run by her daughter Camille, has taken a new, fresher version of Eau d'Hadrien with this scent. Think Italian air, but inland rather than coastal: citrus, pine and wood heavy. Good on boys too, it also comes in a more 'manly' bottle.

Jo Loves Orange Butterflies

£70 for 50 ml at joloves.com
There aren't many places we'd rather spend our summers than the South of France, and Jo Malone's new fragrance is like waking up on a hot morning in Valbonne - bottled. The scent contains orange blossom, petitgrain, mandarin and neroli for that permanent vacay feeling.

Jo Malone London Jasmine Sambac & Marigold Cologne Intense

£75 for 50 ml from jomalone.co.uk
Smells like sunrise in the Indian countryside. Or, as we imagine that would smell anyway. Marigolds - not often seen in fragrance - add a vibrancy and amber warms things up.

Byredo Bibliotheque EDP

£95 for 50 ml from byredo.com
You might be thinking "this isn't new, duh" and you'd sort of be right. The famous scent started as a candle, and then hit the shelves as a limited edition perfume last year. But now, people, it's permanent. Happy days.

Cartier La Panthere EDT

£73 for 50 ml from selfridges.com.
A gentle fragrance, especially for Cartier who are usually pretty robust. The gardenia keeps it super girly but not sickly sweet. If you haven't found your Cartier fragrance, this might be the one.