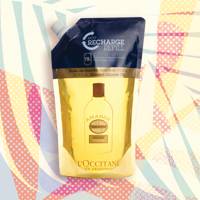 As fast beauty becomes a terrifying reality, here's a rundown of the refillable beauty products you should consider investing in
Take a look in your bathroom cupboard and ask yourself what you see. A whole load of plastic, right? And, as we all know by now, it turns out the majority of our beauty products can't be easily recycled. The saddest thing is that a whole tonne of it (or precisely 120 billion units in 2018) is produced, with most ending up in landfill or the ocean.
Until the recycling issue amongst cosmetic products is addressed, we'll continue to push the message that something needs to be done to squash the concept of fast beauty. Just like fast fashion, fast beauty is an ever-growing trend that encourages us to keep up with the latest craze and subsequently hoard products. The problem is that hoarding and consuming a huge number of products comes with down sides. Not only does it mean brands are producing more products (and, as a result, producing more waste), it also means that we're throwing away more product than ever.
As more and more of us become aware of the environmental risks of throw-away, fast-consumption beauty, we think it's about time someone did something about it. Luckily, a whole bunch of brands are jumping on the sustainable concept of 'refillable' products as a means to cut down on plastic and beauty waste, and we are HERE for it.
While a small number of refillable products already exist, the future looks bright as big high street brands start to join the movement. Next month, The Body Shop plan to launch a scheme in their Bond Street store that allows you to purchase an aluminium container at first fill for £6, which can then be filled time and time again at a reduced rate of £4 with one of their seasonal or bestselling shower gel scents. Sound like something you'd be interested in? These are the refillable beauty schemes you need to have on your radar…
Rituals
Another go-to for refillable bath and body products, Rituals has got sustainable packaging sorted. From hand washes to body creams, when your favourite product runs out, just buy the refill pack and fill up your empty so that your shelfies never have to suffer.

Kjaer Weis
Proving that luxury can be sustainable too, you've probably seen these sleek compacts grace your Instagram feed. Chic? Absolutely – and refillable too. While the initial purchase of the blusher might set you back £41 (we can vouch that the formulas are a DREAM), the refills only cost £24.

Olay
OK, so this one isn't available just yet – but we're too excited not to mention it. Our favourite lightweight Olay Regenerist Whip moisturisers are getting a refillable makeover. As of October, you'll be able to pick up refillable inserts for your existing jar for a trial period of three months at selected online retailers. We're ready and waiting.

Charlotte Tilbury
Known for the prettiest lipstick packaging in all the land, we were jumping for joy when we discovered that Charlotte Tilbury's Hot Lips 2 collection is refillable. The decorative cases can be refilled with different colours of your choice for just £19.

Surratt
Surratt proves that luxury beauty brands do have a conscience. A number of their popular products are refillable and we're obsessed with every last one. Our favourite? The Expressioniste Brow Pencil. We're not sure about you, but we go through brow pencils like nothing else and this refillable one is simply genius.

L'Occitane
Never a brand to overlook environmental issues, L'Occitane's refill scheme is one of the best out there. When your favourite product runs dry, simply buy your reduced plastic refill bag and fill it back up. Plus, it means we have no more guilt about going through bottles and bottles of this dreamy Almond Shower Oil.

REN Clean Skincare
Perhaps most revolutionary, REN has teamed up with eco-brand Loop to launch refillable versions of six of their best-selling body products. Buy your product in the refillable bottle either via the REN website or via Loop, use it, return it and receive your bottle back full. You've gotta see it to believe it.

Mac
Look, we know that your countless eye shadow palettes appear pretty, but we also know that in reality you're probably only using five or six of the colours. To save chucking out the bulky plastic packaging when you're over it, why not try a customisable palette from Mac? Buy the empty shells and fill them up with pigment pans of your choice.

Bleach London
While currently only available in their London salons, Bleach London are keen to spread the word about the importance of refillable beauty products. To help the cause, they have an in-salon scheme that means you buy your (very pretty) glass bottle and simply return to get it refilled when it's empty. Who's in for starting a petition to get salons far and wide to offer this?

Hourglass
If lipstick could kill, this would be our weapon of choice. The Hourglass Confession Ultra Slim Lipsticks are just about the best looking makeup product out there, and (to save wasting their beauty) they're refillable too. £30 for the full shebang and only £18 for the refill. We'll take every shade, thanks.