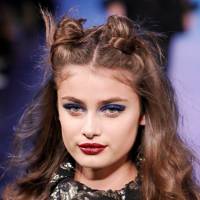 12 second-day hairstyles that will make you WANT to skip your hair wash day
First thing's first, washing your hair every day is a big no, no. It strips the oil and, no matter how much conditioner you lather on, it actually dries it out. But, we get it. No one likes feeling like their 'do is a little uncleanly.
Sure, there's no denying that a trusty spritz of dry shampoo can works wonders (especially if you blast it with a hairdryer afterwards – yep, it's our number one dry shampoo hack).
But sometimes you just feel like you have to do something with it. We're talking top knots, twists and all kinds of half-bun fun. Here's our round-up of super-easy, super time-saving hairstyles for second-day hair...
High half-up, half-down

An adapted version of the high pony for the lobs and bobs among us, this slicked back style looks super chic, and takes away the worry of loose stragglers underneath. Just let your lower half of length run loose and free.





Space buns

Space buns aren't just for festivals. This Sporty Spice-inspired style benefits from a bit of grease and you can wear it either as a half-up-half-down 'do, or with every last strand tucked into two twisted buns.

Bunches

Bunches are one of the easiest ways to get your second-day hair on lockdown. You know the drill: part your hair and either plait your two sections, or leave them flowing.

Throw-up

It's the best excuse for not having time to wash your hair. Blast your hair with a texturising spray, (any chemist bought salt spray will do), rub your fingers through the ends and then literally shove it up, tied with a bobble. Recite, "I woke up like this and worked it" as you leave in the morning.

Half-up, half-down

If you want to rep pretty and girly, the half-up, half-down style is super simple and will still make you look as if you've made some effort.

Deep side parting

If you're on third-day hair, stay away from this style as it may draw attention to unwelcome grease but this slick look is perfect for second-day locks. The slightly oily hair will help it sit much better and stay in place.

The classic pony

You can't go wrong with this timeless style. Plus, it'll keep those stray hairs out of your money maker.

Tousled

Trying to tousle freshly-washed hair is actually fairly hard. It's often too soft and limp, so the waves just fall out despite the generous spritz of hairspray. Second-day hair is actually ideal as your hair has had time to settle, get a little raggedy and it will take better to heated stylers.

Chignon

A simple chignon is perfect for an elegant evening look. Second day hair will allow you to get a little extra height in the crown as the hair will be slightly heavier rather than soft and fly-away. Sweep into a bun right at the nape of the neck.

Plaited ponytail

Plait your hair and you don't have to worry about it, right? Just make sure you ruffle your fingers over the finished braid to add a few romantic fly-aways.

Slick back

Slicked back hair on a slightly greasy hair day sounds like the perfect pairing, but you have to make sure you don't use too much extra product or the hair will become saturated and, worst of all, flat.

Top knot

Go glam and rock an on-trend top know. Comb the hair into a pony and wrap around. Voila.