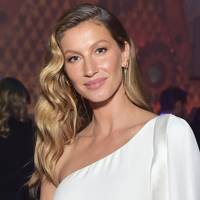 Okay, so these supermodels were the cutest kids EVER
The supermodel anonymity-to-stardom story rarely diverts from the norm: pretty girl is scouted as she walks down a street and before you know it, her face is catapulted onto every major magazine cover and catwalk you can imagine.
It's the same for some of the biggest names in the industry: Kate Moss, Candice Swanepoel and Claudia Schiffer to name a few. But what about the years before that fateful moment?
Did they always want to be models? What were they like in school? And what did they look like before they had a stylist and makeup artist saved to 'favourites' in their s (goofy teenage phases included)?
From Linda Evangelista's fruit-picking days to Karlie Kloss's academic prowess, we look at what the supermodels looked like as children and before they hit the big time...
Then: After traveling to London in 1997 to attend 42 runway castings, Gisele got her big break walking for McQueen's SS98 show. Her career immediately took off, and here she is walking the SS99 Chloe runway during Paris Fashion Week in 1998.

Now: Having slowed down her career over the last few years, Gisele now only walks in shows that she personally chooses.

Then: Naturally, Gigi Hadid began modelling at 2 years old having been discovered by Paul Marciano of Guess clothing. She stopped modelling to concentrate on school but eventually returned to the industry in 2011.

Now: Well now she's just one of the most in-demand models in the world, storming just about every single runway. Casual.

Then: Adriana Lima started modelling at the age of 15 when she won Ford's 'Supermodel of Brazil' competition and signed with Elite Model Management. Lima said she'd never really considered modelling before, but her friends encouraged her to enter the competition telling her she was tall and beautiful.

Now: These days? Oh, no biggie. She's just Victoria's Secrets longest-running model and Forbes' second-highest earning model since 2014.

Then: Born in London, Polish-Israeli Emily Ratajkowski was obsessed with theatre from a young age and landed many small roles in her youth including in two episodes of the third season of Nickelodeon's iCarly. At age 14 she also got signed with Ford Models after encouragement from her acting coach and cites family trips to nudist beaches as why she is so comfortable with posing nude.

Now: EmRata (as we now affectionately call her) hit the big time when she starred in Robin Thicke's Blurred Lines after casting agents saw her cover for erotica magazine, treats!. She's since covered a ton of magazines and made her foray into acting, playing Ben Affleck's other woman in Gone Girl. She's also won the (unofficial) award for Best Body In All The Land.

Winnie Harlow

Then: Canada-born fashion model Winnie Harlow was diagnosed with skin condition vitiligo at a young age, characterised by depigmentation of portions of the skin. Bullying caused her to change schools several times...

Winnie Harlow

Now: Skip forward a few years and Winnie found fame on America's Next Top Model with Tyra Banks as a judge (see her later on), where she placed sixth overall. Since then, Winnie has gone on to front campaigns for high-profile designers such as Diesel and Swarovski, and starred in Beyonce's visual album, Lemonade. Goals. She's also a spokeswoman for vitiligo suffers.

Bella Hadid

Then: She's now one of the most in-demand models in the industry, but once upon a time, Bella Hadid's dreams ran on an entirely different path... The stunner dreamt of competing in this year's Rio Olympics, believe it or not. She was an equestrian player but had to give up competing in 2013 due to her suffering with Lyme disease.