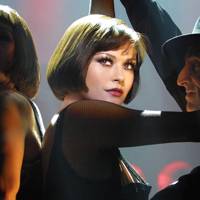 Incredible movie musicals that will spark joy in your life
Musical movies - love 'em or hate 'em - are officially having a moment. Bohemian Rhapsody[/i] came along to steal our hearts, Rocketman put us in an eternally happy mood (and got us seriously considering diamond encrusted sunglasses) and Yesterday was literally all anyone could talk about this summer. Essentially, we can't stop singing our hearts out to these epic musical movies.
This Autumn, your feel-good viewing comes in the form of Frozen 2. The sequel to the Oscar-winning highest grossing animated film of all time lands on our screens this November and we are losing our sh*t in anticipation. The official trailer sees Princess Elsa attempting to save the kingdom of Arendelle. Grand Pabbie is shown advising the crew to cautiously head North. "We have always feared Elsa's powers were too much for this world. Now we must hope they are enough," he tells Princess Anna. Olaf and Kristoff can also been seen making a return. Ooooh, the excitement!
From the golden oldie classics of Hollywood to modern renditions that came to the screen before the stage, we can't stop our toes from tapping along to a good musical cinema sensation.
To celebrate the rebirth of musical movies, here are our all-time favourites...
Frozen

In honour of Frozen 2's arrival to our screens later this year, we're re-watching the original film and loving every minute. Starring Kristen Bell, Idina Menzel and Jonathan Groff, the animation turned out to be the highest grossing animated film of all time. ALL TIME and it won two Oscars (for Best Animated Feature and Best Original Song - yep, you guessed it, for Let It Go). We don't care if this is a kid's film, we are obsessed AF. Roll on the sequel!

Yesterday

Starring Himesh Patel, Ed Sheeran and Lily James, summer 2019's feel-good film of the year follows a struggling musician in an English seaside town who wakes up after a freak bus accident to discover that The Beatles never existed. Just as his dreams were fading, Jack starts performing songs from the band and quickly becomes an overnight sensation. We defy anyone not be smiling and singing the whole way through.

Rocketman

Dexter Fletcher directs the epic story of Sir Elton John from his breakthrough years in the 1970s to his iconic transformation into a global superstar. Starring Richard Madden and Taron Egerton, Rocketman features all of Elton's greatest hits and showcases his trademark OTT style. Anyone else tempted to purchase diamond encrusted sunglasses and garish floral suits after watching? You're not alone.

Bohemian Rhapsody

Rami Malek and Lucy Boynton star in this award-winning film about legendary rock band Queen and lead singer Freddie Mercury, leading up to their famous performance at Live Aid in 1985. You'll laugh, cry and become completely obsessed with Queen all over again. Rami and Lucy, who are now dating IRL, will also quickly become your favourite new-gen couple. It's basically an all-round hit.

Mary Poppins Returns

Written by lyricist Scott Wittman and composer Marc Shaiman, who are best known for Hairspray, the highly anticipated return of Mary Poppins more than lived up to the original. The magical nanny, played by Emily Blunt, returns 20 years later to help the Banks children through a difficult time and we couldn't get enough of it. Get ready to sing your heart out!

A Star is Born

Starring Bradley Cooper and Lady Gaga, well-known musician Jackson (Cooper) falls in love with struggling artist Ally (Gaga). As her singing career begins to take off, Jackson's on-going battle with alcohol worsens. Plot spoiler: it gets juicy as the pair battle each other and their personal demons. It is easily one of the most well-received films of 2018, solidifying Lady Gaga as a bonafide Hollywood star.

The Greatest Showman

The Greatest Showman was released at the end of 2017 with a star-studded cast including Hugh Jackson, Michelle Williams, Zac Efron and Zendaya. The musical movie tells the story of Phineas Taylor Barnum, a showman thirsty for innovation and hungry for success. After opening a wax museum, P.T. looks for ideas to make his exhibition come alive and thus Barnum's Circus begins. On a mission for fame, he ends up gambling his circus, his wife and daughters and all his money - that's when things become treacherous for Barnum. Will he leave everything he's got behind?

La La Land

La La Land tells the story of an aspiring actress and a jazz musician who fall in love while yearning to make it in Hollywood. From its big opening scene, where a giant cast of extras turn the hell that is gridlocked LA traffic into an all-singing, all-dancing musical event, the whole movie is pure joy. We've watched it more times than we dare to count but it remains just as good as the first time.

Mamma Mia 2

Yes, indeed, here we go again. But this time around the storyline follows a young Meryl Streep played by Lily James as she meets her three suitors. Amanda Seyfriend also resumed her role as Sophie who is focused on opening the Hotel Bella Donna after her mother's passing. Plot spoiler: there are Abba songs involved and they will remain stuck in your head for the rest of time. Our personal favourite? Andante.

Dreamgirls

Listen, these dream girls will make you happy! Featuring Jennifer Hudson's Oscar winning turn as Effie, this musical has more sequins and sass than most musicals have in one chorus. Following the ups and downs of one girl group, this rags to riches story will have you singing along. Oh and... Beyoncé is in it which means it's an instant hit. Get your tickets asap.

High School Musical

Three movies on and the super squeaky-clean tale of East High students has carved itself a long-term place in musical history. It may be a favourite amongst teens but we're not afraid to say we're still seriously obsessed. Who can resist the charms of handsome Troy Bolton, basketball superstar and secret singer? Not us.

Grease

The first and last stop for young girls (and boys) seeking out the truth behind high school. Think it's all reading, writing and maths? WRONG! It's about having cool clothes, non-moving hair, matching friends, a greaser boyfriend (preferably with a car) and going to school dances. Probably the best film ever. Well, we think so anyway. Showstoppers? How can we be expected to pick out just a couple? All of them. Look At Me I'm Sandra Dee, You're The One That I Want, Stranded At The Drive-In...

Sound of Music

Maria, a young nun, questions her calling after she develops feelings for the father of her seven wards – the Von Trapp children. A magnificent film that combines a brilliant score, actors and scenery with an amazing (and true) story. If you haven't done so already, dedicate a rainy Sunday on the sofa to this film. It'll guaranteed to be a hit with the whole family.

Moulin Rouge

Baz Luhrmann reignited our love of musicals in 2001 with this beautifully visualised story of Christian, a poet who falls in love with dancer Sabine. Starring Nicole Kidman and Ewan McGregor,

Hairspray

John Travolta leads the cast of Hairspray in this an all-singing, all-dancing drama about dance-loving teenager Tracy Turnblad who becomes an overnight sensations when she bags a role on dance show 'The Corny Collins Show' in 1960s Baltimore. Glamour and glitz aside, the revolutionary film explores important themes of racial integration making it more than just a feel-good hit.

Chicago

Two women on death row go head-to-head in the ultimate battle for fame and stardom. With a killer soundtrack, an all-star cast (Renee Zellwegger, Catherine Zeta Jones and Richard Gere) and serious outfit envy, we defy anyone to not enjoy this 2002 film - there's a reason it got nominated for 12 Oscars.